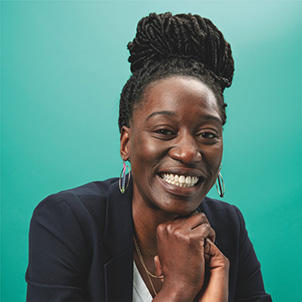 Corinne Milien is the Founder and CEO at WRK, a people-powered HR and staffing solutions to overcome workforce challenges in sports, media, and entertainment. As an unwavering advocate for diversity and inclusion, Corinne aims to eradicate bias and eliminate barriers that have historically marginalized certain groups from traditional hiring practices.
Corinne's roots in sports trace back to her time as a student assistant at Bemidji State University, later transitioning to working under Coach Pat Summit at the University of Tennessee. She later served as an Events Supervisor for ESPN, managing some of the company's premier athletic events. Corinne's unwavering dedication to her work led to her recognition by adidas, Impact Hub, and Blavity.org as a key social entrepreneur of color. A U.S. Air Force veteran, she completed her B.A. at Bemidji State University and her M.A. in Sports Management from the University of Tennessee.
Here's a glimpse of what you'll learn:
Corinne Milien talks about what they do at WRK
The lessons Corinne learned from the Air Force Academy
How Corinne kicked off her career in sports
Corinne shares her experience working with Pat Summitt and other popular coaches
What is the adidas Cultivate & B.L.O.O.M. Program?
The beginnings of WRK, and what makes it unique
The kind of clients WRK serves
In this episode…
Sports and Human Resources may seem like two separate worlds, but in reality, they share many similarities. Both involve building the best team, fostering a strong culture, and investing in people's growth.
Corinne Milien is an expert who skillfully maneuvers both worlds. As an industry veteran and the Founder and CEO of WRK, she's carved a niche for herself by blending HR management with the exciting realm of sports.
In this episode of WRK and Win, Corinne Millien is interviewed by Chad Franzen of Rise25 about her unique career journey, her role in helping sports companies navigate their HR challenges, and her new podcast venture. Corinne also shares her insights about nurturing an inclusive culture and ensuring compliance in rapidly-growing companies.
Resources Mentioned in this episode
Sponsor for this episode…
This episode is brought to you by WRK.
In the dynamic world of sports and entertainment, managing a successful business is about more than just the bottom line — it's about the people who make it happen.
WRK is your go-to partner for people-powered HR and staffing solutions, designed to overcome your toughest workforce challenges.
From fostering employee engagement through positive employee relations to developing future leaders with their Leadership Development programs, WRK's services are designed to maximize the performance of your team and ensure a vibrant, inclusive work culture.
This isn't just HR — it's HR reimagined.
Go to www.letsdowrk.com to learn more.